If my heart was a house, you'd be home.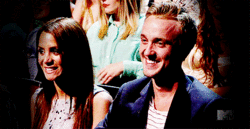 Tom & Jade. <3
Tessa & Scott. <3
Name's Linda. Figure skating, football and Harry Potter fanatic. I write fan fictions and I ship Tom & Jade, Tessa & Scott really hard. Super friendly - message me and let's be friends.
Blog dedicated to my all favorite things and people. <333
*** GIFs on my sidebar was made by jamesfrancoco and ohyeahvirtuemoirgifs.